Impact and Reflections 2021
It's the time of year for reflection and growth. We are continuing to learn and evolve to better serve the arts and culture sector across Illinois. This past year was a big year for our learning and growth. And we also have a lot of things we're proud of and want to share with our community!
$145 million

in new funds directed to the arts and culture in Illinois. 
10,795

advocacy actions taken. 
Over 200 artists

commissioned to create

pro-vaccination projects for their communities.
1,000 artists and organizations

served through webinars

with government officials.
For every dollar
donated to Arts Alliance Illinois, we helped
create over $146
for the Illinois creative sector.*
We started this year knowing that our road to recovery was a long one. The arts and culture sector would still need a lot of support to navigate the pandemic.
"Thank goodness that there are 26 letters in the alphabet as Plan A will give way to Plan B and so on."
"It is difficult to move forward with plans for exhibitions, residencies, etc. I am vaccinated, but live with my unvaccinated son, and near immunocompromised family. Every decision we make is a risk assessment."
So, we got to work.
We advocated for and won over $145 million in new funds directed to the arts and culture in Illinois. 

We partnered with other national advocacy organizations, like the National Independent Venues Association, to help secure

$15 billion in federal dollars through the national Shuttered Venue Operators Grant program. 
We launched a campaign for $500 million for the arts and culture sector from the State of Illinois. That fight is ongoing and will continue next year. 

We made the case for theaters, venues, and galleries in re-opening conversations with government and health officials. 

We held webinars with government officials and broke down complicated relief bills for the field.
"Having the Alliance read through the lengthy document and reducing it to an hour was a remarkable feat and happy to have received all the information in a succinct manner."
Unfortunately, as we fought for funding for the arts at the federal, state and local levels, the pandemic complicated some of our previous wins. Implementation of the ESSA arts indicator has been delayed as the state puts its school accountability system on hold due to the turmoil of COVID. Money dedicated to capital projects across the state that was promised to organizations has yet to begin flowing. So we also had to advocate for better implementation and follow-through on past promises.
Strengthening our Communities
To accomplish this advocacy work and build a better, more equitable future for Illinois creatives, we recognized we needed to invest in strengthening our community of advocates.
We committed to maintaining our pay-what-you-can model for membership, which allows membership with the Alliance to be accessible to all Illinois creatives. And we added a new position to our team this year! Erick Deshaun Dorris is our first ever Director of Community Organizing. With this new role, the Alliance formed a diverse, statewide coalition of creative networks and membership organizations to advocate for the Illinois Creative Future Fund. With increased capacity, the Alliance was also able to support over 75  Local Advocates across the state to prepare for meetings with their legislators and advocate for relief and recovery dollars in their local communities.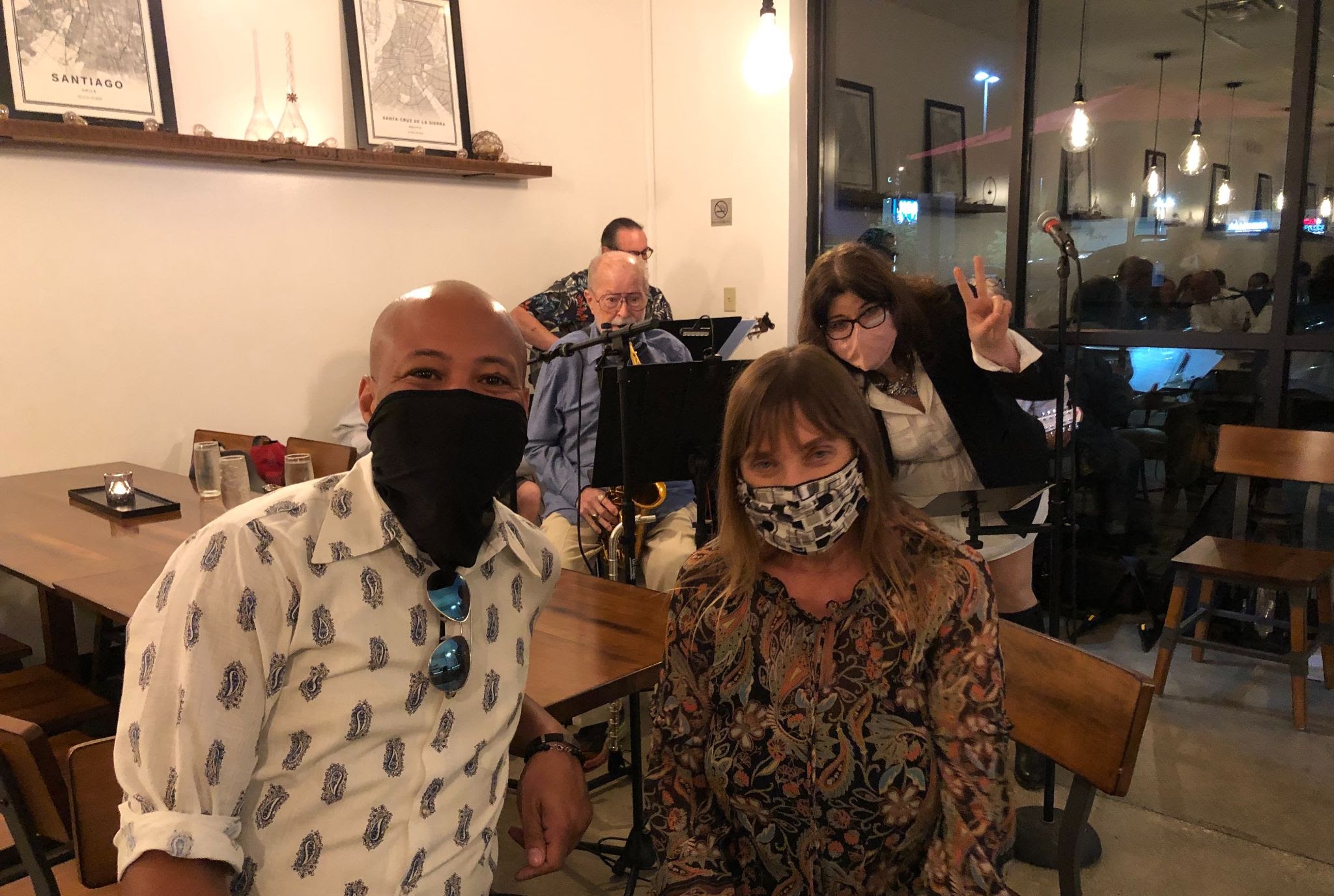 Sheila Walk, Executive Director of the Springfield Area Arts Council, poses for a photo with Erick at Roots Latin Grill (Springfield, IL). The Arts Council partnered with the Community Foundation for the Land of Lincoln to provide small grants to local musicians to help them return to live performances during the state's re-opening, including Samba Llamas pictured here.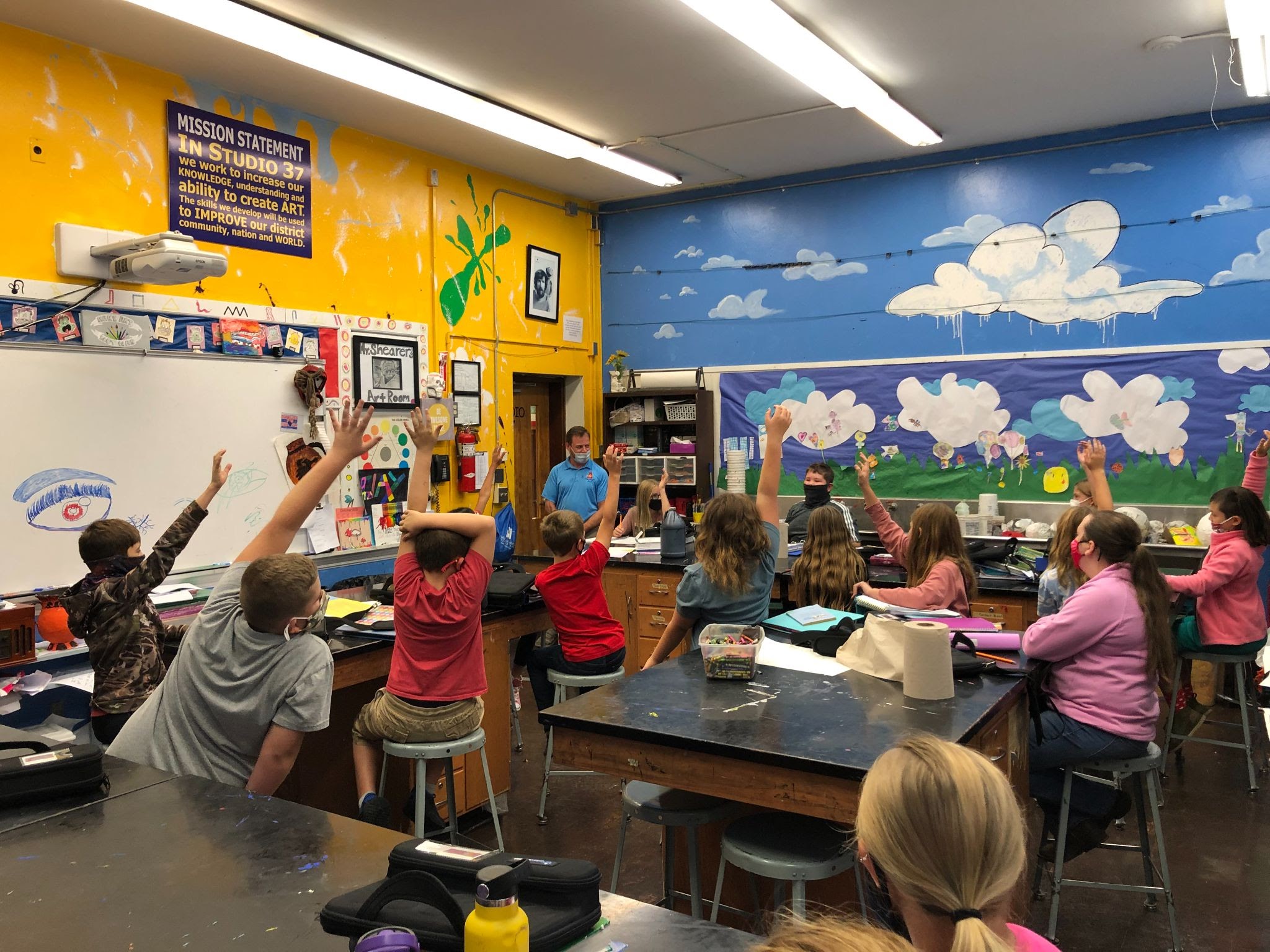 Art Educator and Arts Education Advocate, Josh Shearer, leads instruction in Anna Middle School (Anna, IL) during the first few weeks of in-person instruction this fall"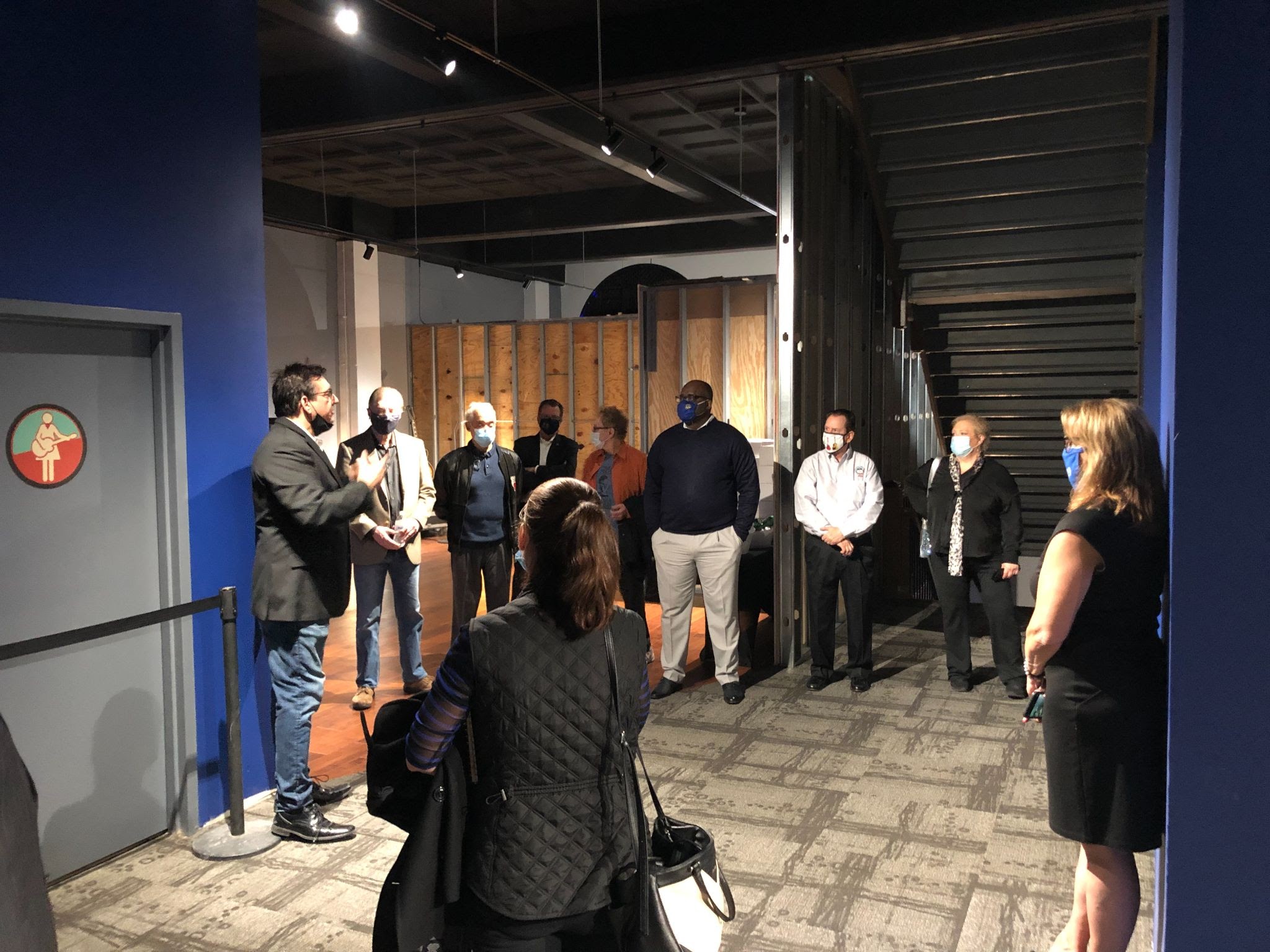 Ron Romero, Executive Director of the Illinois Rock and Roll Museum on Route 66 (Joliet, IL) leads a legislative meeting for city, county, and state legislators during a preview of the soon to be opened site.
Support and advocacy happened outside of the legislature as well. This year we also worked with artists on two issues that mattered a lot: vaccine hesitancy and systemic racism.
We created the #VaxToGetBack campaign and sponsored 73 pro-vaccination artist projects and events across the state. (and there are more to come!)
Check out this highlight reel of all the fabulous projects:
"The partnerships were great, and it was WONDERFUL to have helped get people vaccinated. Two of the projects have semi-permanent installation spaces so those will have long lasting impact."
"And what's been great about this project… it gives people who are creative the opportunity to be those community leaders that our community needs."
With our partners at Enrich Chicago we also supported anti-racism training for 125 arts administrators and continuing monthly accountability groups for participants to dig deeper and collaborate to make change within their organizations which would support a more equitable working environment for their staff and artists, and a more welcoming experience for audiences and participants.
"All of these programs provided invaluable education on race in a historical context, with thoughtful voices from leaders across the arts; and they left us with tangible, useful tools to bring back to our organization for the work ahead."
"The workshop was deeply personal and helped build trust amongst my colleagues. This trust will surely benefit our long-term goal to be an anti-racist organization through all that we do."
"I sometimes feel siloed in my organization and being able to hear from others who feel the same, or have found solutions, is helpful."
Throughout all of this, we've been laying the groundwork for some exciting things in 2022
.
To live our values when it comes to equity and community input and to fulfill our mission to faithfully represent the creative sector — we are instituting a new annual policy development process. This facilitated, statewide process will take place in the summer and fall every year and be an invaluable source of information, inspiration, and collaboration for our members and wider network. We will ensure that everyone has a place at our table.  
We want to get creatives back to work! We have been designing with support from the Illinois Department of Commerce and Economic Opportunity the Illinois Creative Workforce Activation.  This is an innovative workforce program that would provide new pathways to Illinois' creative workforce. In 2022 we'll be hosting focus groups with creative practitioners to get feedback on The Illinois Creative Workforce Activation (ICWA) proposal. 
Learn how to make your case! Over the last year we have been so excited to develop a new and improved advocacy and casemaking training with the help of our friends at Free Street Theatre. We are so excited to unveil the training in 2022 and get more creatives involved in advocating for themselves and the whole creative sector.
One State is back! Our statewide arts conference with the Illinois Arts Council Agency is headed to Springfield next year! Stay tuned for the save the date and more details. 
Thank you for being with us in 2021. If you want to support this important work in 2022,

make a donation

! 
*The $146 figure is calculated based on total new funding created for the arts in Illinois over the past year, divided by our annual budget. New funding includes approximate dollars dedicated to the arts in the following programs: Business Interruption Grants (BIG), Back to Business Grants (B2B), Arts for Illinois Relief Fund (AIRF), new funding for the Chicago Department of Cultural Affairs and Special Events (DCASE), and new funding for the National Endowment for the Arts (NEA) that has been distributed so far. This number does not include: pending NEA grants from ARP and CARE dollars, Payment Protection Program (PPP) dollars, and Shuttered Venue Operators Grant (SVOG) dollars.