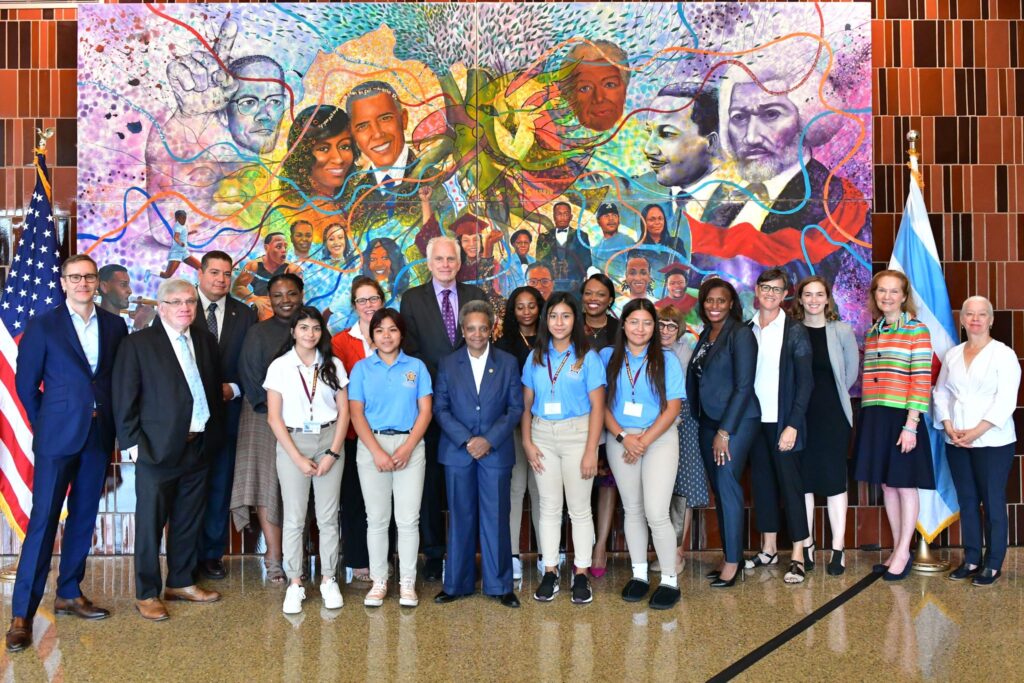 Building on our work over the past few months engaging with the new Lightfoot administration's arts policy agenda, the Alliance continues to champion the value of the creative sector in Chicago.
On Friday, September 20, we participated in a press conference held by Mayor Lightfoot at Solorio Academy High School in Southwest Chicago to outline her commitments to arts education and the creative sector. Mayor Lightfoot spoke of the need for access to arts education for all young people; making Chicago a great place for artists to live, work, and thrive; investing in neighborhood arts access and creative industries workforce development; and making community-based decisions about arts investments.
To watch full video of the press conference, click here. To read Mayor Lightfoot's press release on the event, click here.
We are pleased to see a strong statement from the mayor in favor of equitable access to a creative life in Chicago, and we look forward to working on behalf of the sector to ensure these ideas move forward.
Stay with us as we continue to support community engagement opportunities around the mayor's arts, culture, and creativity priorities. If you haven't already, please join our fight for arts resources and policies as an Alliance member.
Above, front row: Mayor Lori Lightfoot with Solorio Academy High School students. Back row (from left): Ingenuity Executive Director Paul Sznewajs, National Museum of Mexican Art Founder and President Carlos Tortolero, Solorio Principal Victor Iturralde, The Joyce Foundation Director of Culture Programs Tracie D. Hall, Arts Alliance Illinois Executive Director Claire Rice, DCASE Commissioner Mark Kelly, Solorio students, Chicago Public Schools (CPS) CEO Dr. Janice Jackson, Civic Leader Susan Kiphart, CPS Chief Education Officer LaTanya McDade, Chicago First Lady Amy Eshleman, CPS Director of Arts Education Julia deBettencourt, and Ingenuity Board Members Francia Harrington and Elaine Tinberg. Photo via Chicago First Lady Amy Eshleman.